Everything You Need to Know About Lord Krishna
Lord Krishna is one of the most revered and popular Hindu deities in the world. He is worshipped as the Supreme God and the eighth incarnation (avatar) of Lord Vishnu. In some Hindu communities, Lord Krishna is also believed to be the ninth incarnation of Lord Vishnu. He is referred to as Balgopal, Kanha, Krishna Kanhaiya, Govind, and various other popular names in the scriptures.
Read the list of 108 names of Lord Krishna that are used to worship him.
Who is Lord Krishna?
Lord Krishna is considered the God of love, compassion, and devotion. Hindu mythology portrays him as the Universal Supreme being, prankster, gentle lover, and a great warrior. Since he is the only incarnation of Lord Vishnu who possesses all the 16 Kalas or attributes, he is called the Purnavatar or complete incarnation.
Lord Krishna Birth
Lord Krishna was born to Vasudev and princess Devaki in the prison of Mathura. Princess Devaki was the sister of King Kansa, the wicked king of Mathura. As per legends, at the time of the marriage of Princess Devaki and Vasudev, an Akashwani forecasted that Devaki's eighth child will kill King Kansa and bring an end to his atrocities. Lord Krishna was the eighth child of Devaki and Vasudev. Thus, to protect the newborn Krishna (Balgopal), Vasudev carried him to his cousin Nanda and Mata Yashoda in Gokul. They raised Lord Krishna and protected him from the evil intentions of King Kansa.
According to Hindu Scriptures, Lord Krishna was born during Dwapura Yuga, the third Yuga of the four cyclic Yugas. His birth time is said to be at midnight on the Krishna Paksha Ashtami Tithi in the Bhadrapada Hindu month. This day is celebrated by Hindus every year as Janmasthami or Krishanasthami or the birth anniversary of Lord Krishna.
Special celebration Janmashtami in Mathura.

Divine Meaning of Lord Krishna's Birth

It is said that whenever sin increases on the Earth, Lord Vishnu incarnates on the Earth to eradicate evil, and establish Dharma. The birth of Lord Krishna is also associated with this Divine purpose. Lord Krishna took birth to save the people of Braj from the torture and tyranny of King Kansa. Later, he participated in the Mahabharta and guided Arjuna and the other Pandavas to end the atrocities of Kauravas. He preached Shrimad Bhagwat Geeta on the battlefield of Kurushetra to enlighten the mind of Arjuna.
Lord Krishna's Appearance
The child Krishna or Bal Gopal is depicted as the small child crawling on his hands and knees with a ball of butter in one hand. While the grown-up Lord Krishna is depicted with blue-black skinned like Lord Vishnu. He is seen playing the flute, wearing a yellow dhoti and a crown of peacock feather on his head. Most of the time, his idol is accompanied by the idol of Goddess Radha.
Timeline of Lord Krishna's Life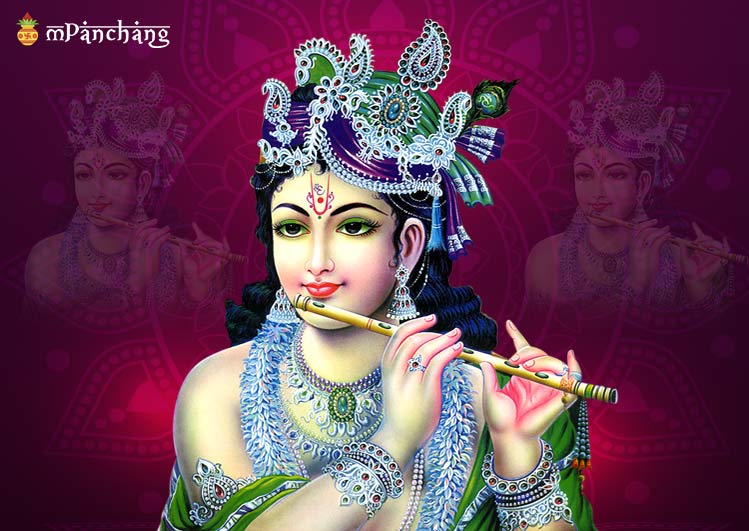 Lord Krishna's life span on the Earth was for 126 years and 8 months. He spent his life in 3 major parts that are referred to as Shree Krishna Leela. Check out the names of 3 main Shree Krishna Leela and the time span of life spent.
Vraja Leela- 11 years and 6 months in Brindavan as a small child. In this Leela he killed various demons included Nalakubara, Manigriva, Putna etc.
Mathura Leela- 10 years and 6 months as a teenager after killing the evil King and his maternal uncle, Kamsa.
Dwaraka Leela- 105 years and 3 months in Dwaraka after establishing Yadav's kingdom.
Here is the table covering the entire timeline and life events of Lord Krishna.
Age

Lord Krishna Life Events

Birth

Lord Krishna took birth at midnight in Bhadrapada, Ashtami of Krishna Paksha under Rohini Nakshatra on July 19/20 around 3228 BCE to Princess Devaki and Vasudev.

Vasudeva carried him from Mathura to Gokul to his foster parents Nanda and Yasoda.

Garga Muni performed the naming ceremony and named the baby "Krishna".

till age 3

Lord Krishna lived in Gokula.

killed Putana, Sakatasura, Trinivarta demons

from 3-6 years

He moved to Vrindavana

killed Bakasura, Aghasura, Dhenuka

And then moved to Nandagrama

from 7-10 years

Brahma stole and returned cowherd boys

He lifted the Govardhan Mountain and started Govardhana puja.

Shree Krishna played Rasa-Leela with Gopis and Goddess Radha

He was invited to Mathura for a wrestling match with King Kamsa

Shree Krishna killed Canura and Balarama killed Mustika

King Kamsa was killed by Lord Krishna while his brothers were killed by Lord Balaram

from 10-28 years

Shri Krishna lived in Mathura

Initiated along with Balarama into chanting Gayatri by Gargamuni

Gurukul Diksha with Balarama and Uddhava in the sixty-four arts by Sandipani Muni

He killed several demons and protected Mathura.

from 29-83 years

He established the Dwaraka Kingdom.

Lord Krishna's marriage: He married Rukmini and 7 other queens.

Rescued 16,100 princesses from the kingdom of Narakasura

1,61,080 children born to Shree Krishna

Killed Sisubala in Indraprasth City

Saved Draupadi from Cheer Haran by Kauravas.





from 84-125 years

Delivered Bhagavad-Gita at Kurukshetra Battle (3138 BCE)

Lord Krishna saved King Pariksit in the womb of Uttara.

He recited Uddhava Gita to Uddhava

Helped King Yuddhistra to perform Aswamedha Yagya

Yadav race extinction by Lord Krishna himself.

Wounded by a hunter, Jara by mistake

at 125 years of age

Swargarohana or Lord Krishna Death: He left his body on February 18, 3102 BCE
Shrimad Bhagavad Geeta Quotes by Lord Krishna
"Whatever happened, happened for the good. Whatever is happening, is happening for the good. Whatever will happen, will also happen for the good."
"You have the right to work, but never to the fruit of work, You should never engage in action for the sake of reward, nor should you long for inaction."
"Lust, Anger, and Greed are the three doors to hell."
"When a man dwells on the pleasure of sense, the attraction for them arises in him, From attraction arises desire, the lust of possession, and this leads to passion, to anger."
"The spirit is beyond destruction. No one can bring an end to the spirit which is everlasting."
"For the soul, there is neither birth nor death at any time. He has not come into being, doesn't come into being, and will not come into being. He is unborn, eternal, ever-existing, and primeval. He is not slain when the body is slain."
"Yada-yada hi dharmasya
Glanir bhavati bharata
Abhyutthanam adharmasya
Tadatmanam srjamy aham...
Paritranaya sadhunam
Vinasaya ca duskritam
Dharma-samsthapanarthaya
Sambhavami yuge-yuge.."
Janmasthami Wishes, Images, Photos, Pictures, and Wallpapers
Janmasthami, Lord Krishna's birth is the time to celebrate and make merry. Worship Lord Krishna on this auspicious day and spread positivity and motivating quotes of Lord Krishna with beautiful images, quotes, wishes, pictures, and Lord Krishna's wallpapers.
On this Janmashtami, worship Lord Krishna and see his blessings. May you learn from his life and teachings to make your life bright and positive. Happy Janmashtami!
May the blessings of Lord Krishna bestow you with joy, happiness, wisdom, and prosperity. Sending you warm and beautiful Krishna Janmashtami greetings. Happy Janmashtami!
May on the festival of Janmashtami, your life be filled with immense joy, peace, love, and happiness. Wishing you and your family Happy Krishna Janmashtami!
Hathi Godha Palki, Jai Kanhaiya Lal Ki! May this Janmasthami Lord Krishna bless you with a happy and righteous life. Happy Krishna Janmasthami wishes to you and your family.
May Lord Krishna bring joy and happiness to you and your family. Sending you a lot of Janmasthami wishes on this beautiful and auspicious occasion of Janmashtami! Hare Krishna! Hare Rama!
Read more Happy Krishna Janmashtami Wishes Images 2021, Janmashtami Quotes, Messages, SMS, Greetings and Krishna Janmashtami Status Photos.