Bhagavad Gita does not need any introduction! It is the Hindu Epic scripture that provides answers to all our confusions and conflicts.
The Kurukshetra battleground was full of relatives and family members, confused Arjuna turned towards his charioteer Krishna to solve his dilemma. And Krishna, one of the most beloved incarnations of Hindu deities, shared practical and philosophical aspects of life through Bhagavad Gita.
The scene mentioned above is depicted in Mahabharata. Scholars believe Mahabharata happened around the 2nd century BCE. And Bhagavad Gita is part of it. Bhagavad Gita which literally means -Songs of the blessed God, is a compilation of 700 verses.
Moreover, it discusses various values, beliefs, duties with the idea of a more meaningful life. It also shares wisdom on attachment, love, conflicting motives, ethical practices, and a sense of duty. Take a look at some of the Bhagavad Gita quotes, which are rational and relevant even today!
Must Read: Shri Krishna Chalisa
Best Quotes From Shrimad Bhagavad Gita on Success

1. Change is the law of the Universe. You can be a millionaire or a beggar in a moment.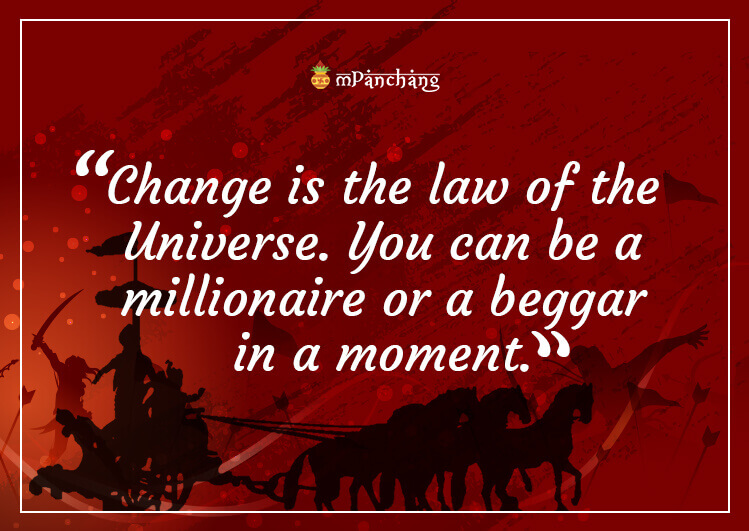 The only thing which is constant in the Universe is- change! Nothing is changeless in this world, neither your success or your failure! Nature teaches us to change according to the situation. In the cycle of life, we go through various stages, which change with age and time. The only eternal thing is a movement -the flow! Even our mere existence on the Earth is not permanent! If we understand this deeply, we will accept tough times, sad events, loss, and even death of our loved ones as a passing-by situation. Also, we will not be deceived or proud in the moments of glory, success, and achievements.
Also See: Puja For Success In Career
2. You can claim your right on the work but not on the results.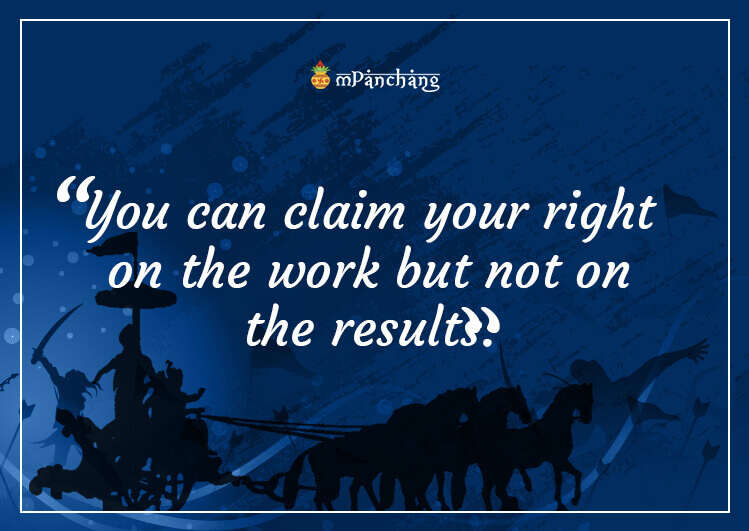 The wisest quote to adapt from Bhagavad Gita is Kaam Karo, phal ki chinta mat Karo! We all have control over our activities but zero commands over its results.
Also, caring about outcomes, searching shortcuts for success doesn't work in the long run. To achieve success, you must learn to work without having an attachment to the results.
3. We are kept from our mission not by obstructions but by a clear path to a lesser mission.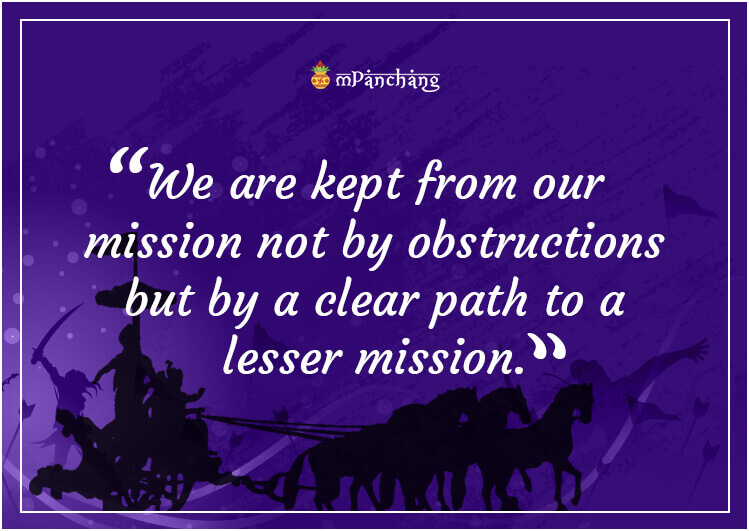 What's stopping you from reaching your aims?
A lack of clarity is the only reason why many people settle for less than they can be. Confusion or lack of clarity leads to abandoning the dreams and choosing the comfort-seeking path.
Do not settle for the small or ordinary things, dream big and get absolute -unwavering clarity of your path.
4. A man is the outcome of his belief, As he believes so he is!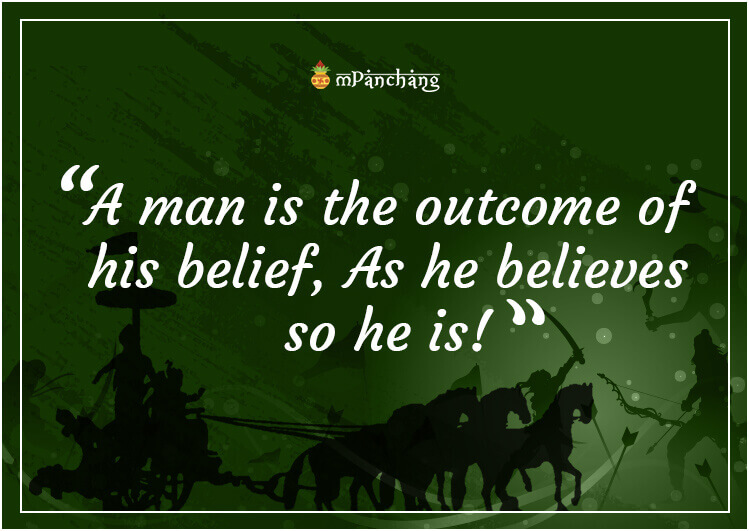 Your mind, your beliefs are everything. And when you change it, you can see its reflections as external changes in life.
Feed your mind with positive thoughts. Train this monkey mind to achieve mastery, and this is the surest way to success!
5. A mind mastered in meditation is like the unwavering flame of a lamp in the windless place.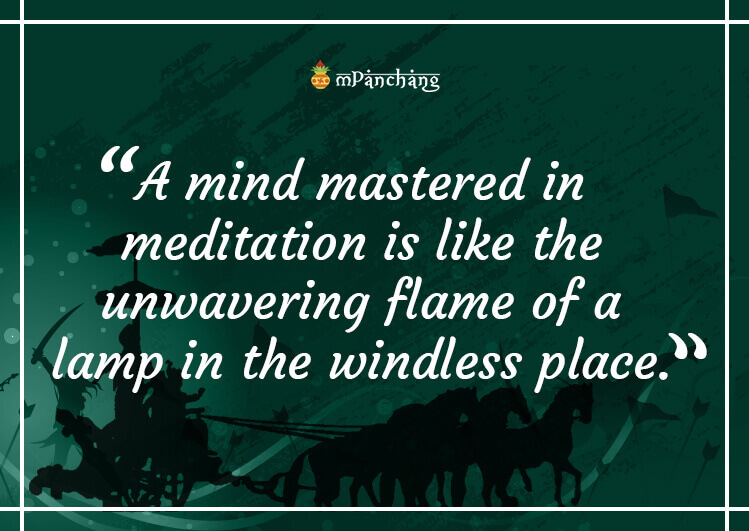 Need clarity of path to fulfil your dreams? As we already saw, the right belief is life-changing..but how do you get these all? Meditation is the ultimate way!
A mind is a chatterbox running thousands of thoughts at the moment! Calming this unproductive race is a real challenge!
Meditation, if once achieved, can bring mental peace, spiritual growth, and focused attention towards goals.
6. Whatever happened, happened for good. Whatever is happening, is happening for good. Whatever will happen, will also happen for good.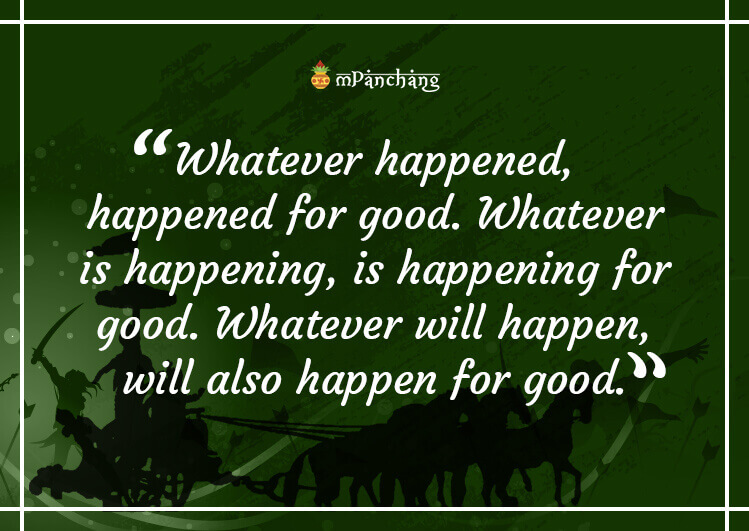 We all worry. It is natural. But when it holds you back in life, it becomes more worrisome!
The timeless wisdom that Krishna is teaching here is-you should not feel stressed about anything. Whatever has happened, happening, or will happen is happening for a reason!
Face it and accept it! Remember the previous thought? Just focus on your work; don't think about outcomes!
You can enjoy many more such quotes and celebrate the birth of Bhagavad Gita on this coming Gita Jayanti. It is an auspicious day to celebrate the most valuable wisdom we have, in the form of Bhagavad Gita!
Also, we can learn how to love selflessly, what is the real meaning of love with Bhagavad Gita's quotes on love! Here we share a few more quotes on love and life in general from Bhagavad Gita.
Best Shrimad Bhagavad Gita Quotes on Love

Also See: Remedies for Success in Love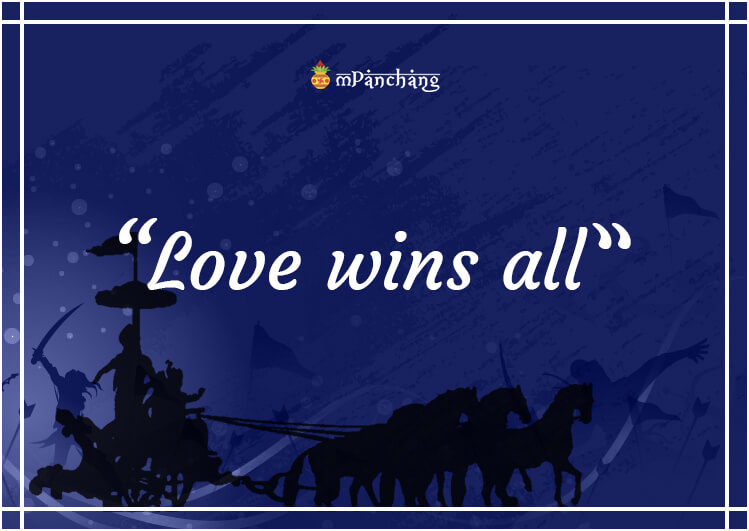 Perhaps the smallest quote of our list, but it takes years to master it!
The sages, priests and divine souls from different religions have been stating this simple thing from years.
Moreover, the pure and unconditional love wins all odds! It transforms the hearts with its warmth and purity. As Krishna said, we can win him with love, with pure,purpose-less love!
8. Love, Compassion, and Devotion win ego, envy, and lust!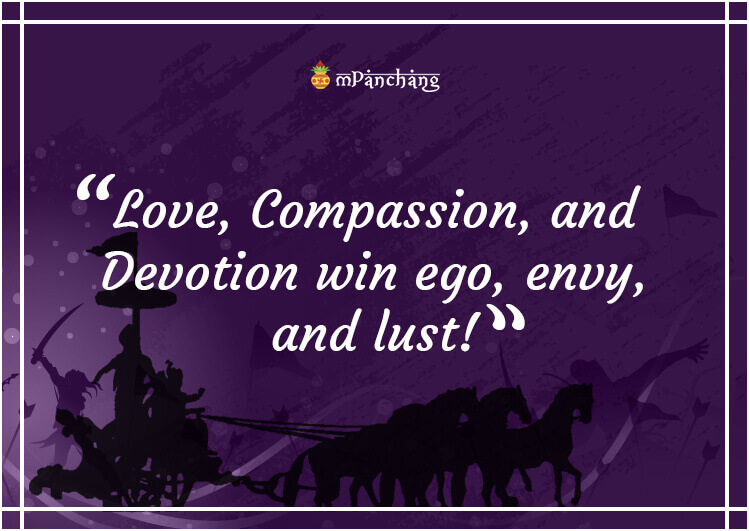 Ego, envy, and lust is the doorway to hell, as Lord said in his wisdom. And with the love, compassion and sincere devotion towards something you can win these vice qualities
Also, love, compassion, and dedication are the most exceptional quality one should conquer to win hearts!
9. Love Without Expectations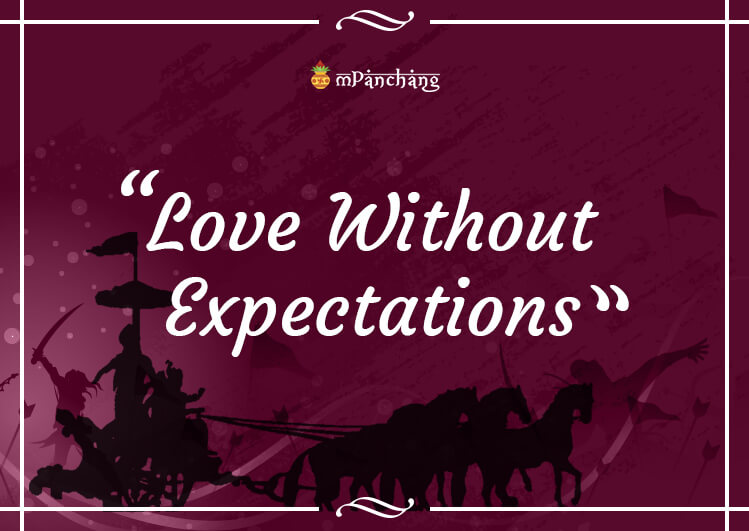 Expectations kill the purity of love. As God says, he puts pure and unconditional love above everything.
10. You came empty-handed, and you will leave the world empty-handed.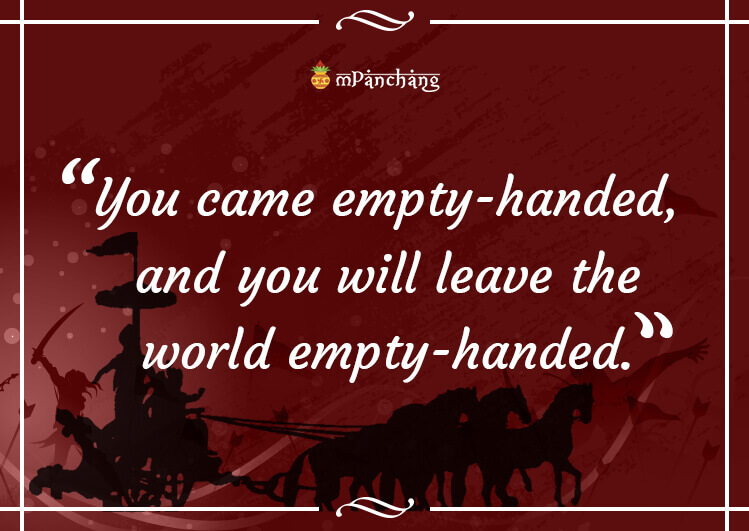 Focusing on tangible and mundane things is our way of living in this materialistic world.
A big bungalow, luxurious car, and more cash in the bank accounts are our criteria to live an elite life.
But often we forget that none of these things will come to the grave with us. We came here empty-handed, and we will go empty-handed. So the in-between journey of these two points, which we call -life, should be simple and much more meaningful.
Learnings from Bhagavad Gita
As a devotee of Krishna, we learn from these wise words that we all are warriors! Our duty is to fulfil our highest goals without worldly attachments!
However, Gita covers a lot of other virtuous jewels that are worth reading! Preaching and remembering these noble thoughts on Gita Jayanti will bestow us with a more meaningful life.
From Mahatma Gandhi to Carl Jung, every nobleman gets inspired by Gita. It will give you a more extensive understanding of worldly affairs.
Do you feel stuck in a worldly worry loop? It's time to break free with best Bhagavad Gita quotes!