Gender predictor / Baby Gender predictor/Baby Gender Calculator tool makes baby gender prediction simple and convenient to use. This chinese baby predictor predicts baby gender by conception date and parents birthday. Thus, for accurate baby gender prediction you need to enter the date of birth and the date of conception. You need not necessarily enter an accurate date of conception in baby gender predictor, as the chinese gender calendar calculator also accepts an approximate date.
For instance, if both the lunar month and mother's date of birth are of either odd or even numbers, it is a girl. If any one of these is an odd number, while the other is even, it's a boy. Try this gender predictor calculator/ boy or girl calculator and we will give you a reason to paint the nursery blue or pink.
Chinese gender chart is an ancient chart that is used to predict the fetus of the baby. It is believed that this chart has been used for 700 years by chinese people for baby gender predictions. The Chinese Gender Chart is based on I Ching or Book of Changes and based on calculations of the Yin and Yang, Five elements and the Eight Trigrams.
As per history of Chinese Gender Predictor Chart, this gender chart was created for the royal family of the Qing dynasty (1644-1912) with the help of I Ching. It was used to conceive sons who were favored for work, wealth, growth of family lineage. This chinese baby boy prediction chart was kept secret by dedicated eunuchs of Qing palace and used as an effective tool to get baby boys for the imperial family. After the end of the Qing dynasty, the chart got looted during the Boxers rebellion. It was then brought to England where it was translated and preserved by the then King of England. Later, the chart was taken to Austria by a professor from where the Chinese gender prediction chart was brought to China by a Chinese scholar. At present, the original copy of Chinese gender chart calculator is kept safe in the Institute of Science, Beijing as an important document of the Chinese history.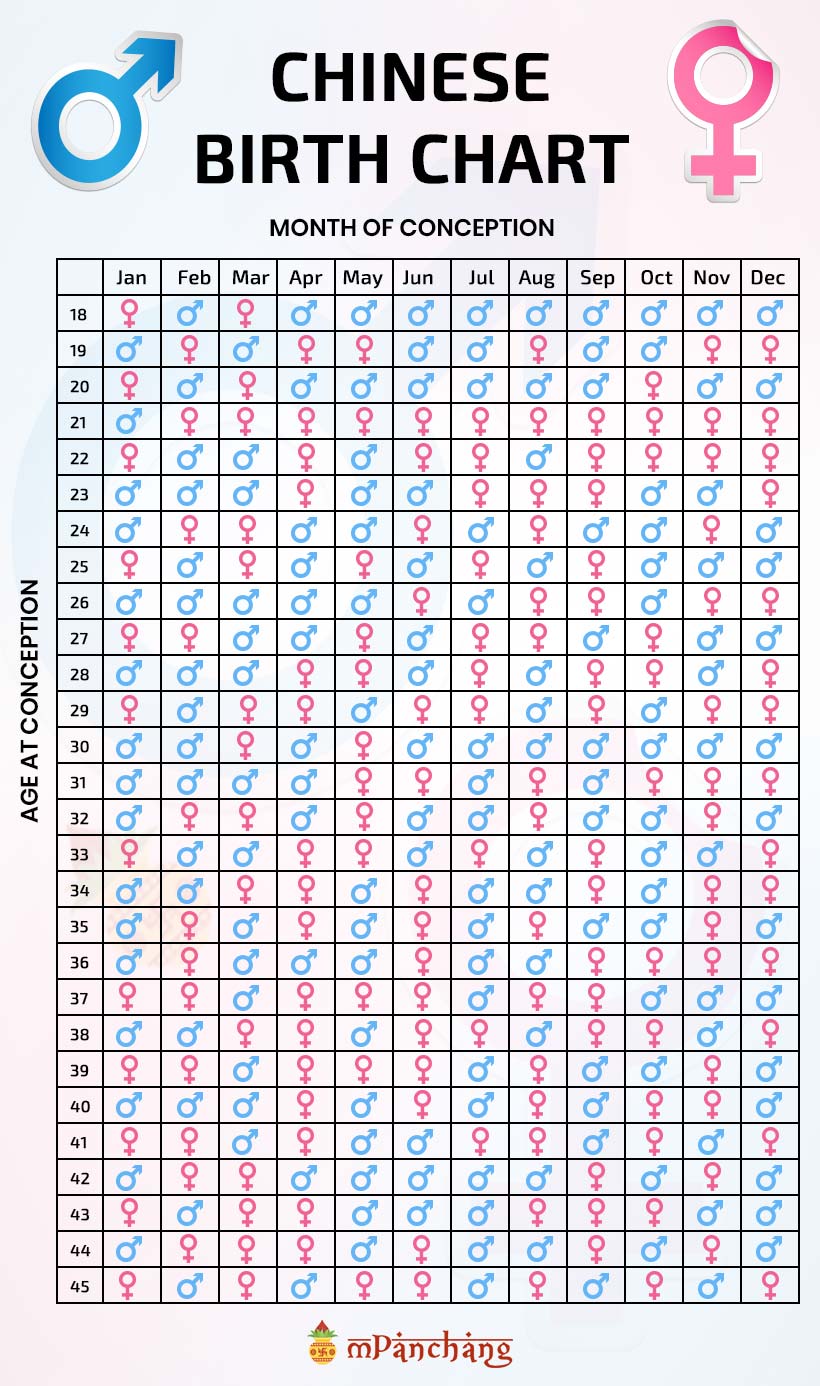 The Chinese gender chart is not a scientific method thus it cannot be justified as a 100 percent accurate baby gender predictor calculator. It could share predictions with 50-50 probability or may show accurate baby generation beyond that. However, as per chinese gender predictor accuracy study and some claims, the chinese baby gender prediction has been proven to show an accuracy of more than 90%. This Chinese baby prediction calculator is said to be based on chance and cannot be compared to the scientific methods like ultrasound. Thus, try this gender calculator for entertainment and add some fun to your pregnancy experience.