Govardhan Puja is one of the vital celebrations in the 5 day Diwali festival. People greet each other, give gifts to each other and enjoy this time of the year. Devotees pray for health, wellness and prosperity for them and their family members. You can also send your prayers for them through Govardhan Puja messages that have been tailored specially for you. Choose to share those messages through broadcast or put them as Goverdhan Puja What's app status. May Lord Krishna bless you all on this auspicious day! Best wishes for Govardhan Puja and its celebrations!
Best Wishes for Govardhan Puja
May this auspicious day bring
Luck, success and wealth
May Lord Krishna bless you and your beloved ones
with a lot of happiness and love.
On this auspicious occasion of Govardhan 2021, may Krishna help you overcome all of your life's challenges.
In this blessed month of Govardhan, I wish you and your loved ones every blessing that you wish for. Have a happy and blessed Govardhan!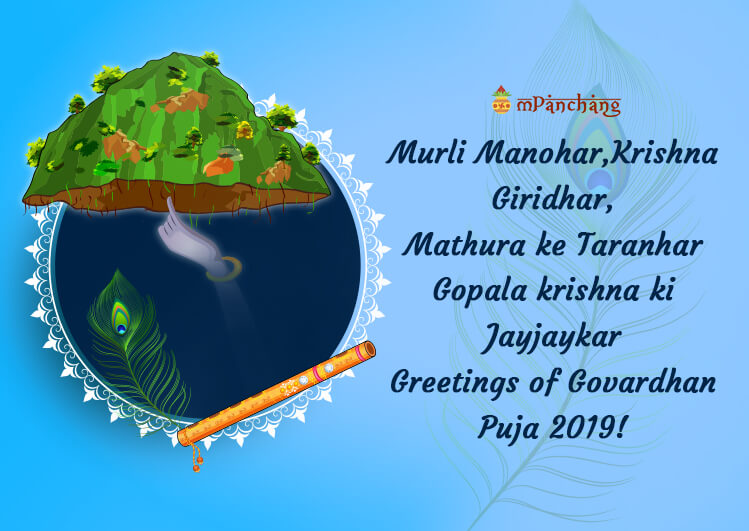 Murli Manohar,Krishna Giridhar,
Mathura ke Taranhar
Gopala krishna ki Jayjaykar
Greetings of Govardhan Puja 2021!
Govardhan Puja is round the corner again. May Lord Krishna bless you with love, fortune, and eradicate all the evils and pain. A prosperous Govardhan Puja to you and your family.

May the divine day of Govardhan Puja,
bring success, joy and luck,
to you and your family members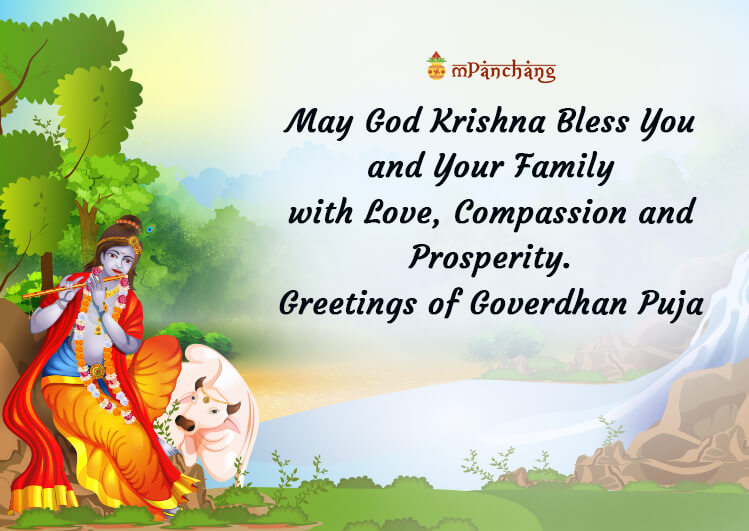 May God Krishna bless you and your family
with love, compassion and prosperity.
Greetings of Goverdhan Puja
Yashoda ka dular,Radha ka pyar
Bhajan ki Bhakti ,Bhoga ki mithaash
Sada khush rahe aapka parivar!
Wishing you very happy Goverdhan Puja!
Also See: Diwali Wishes, Quotes and SMS Collection
Goverdhan Puja 2021 is the auspicious day
Filled with love, faith and prayers;
May this divine day bless you with
all the things dear to your heart
May Shri Krishna empower you to drive away from the rains of despair by lifting the mountain of joy! Happy Govardhan Puja!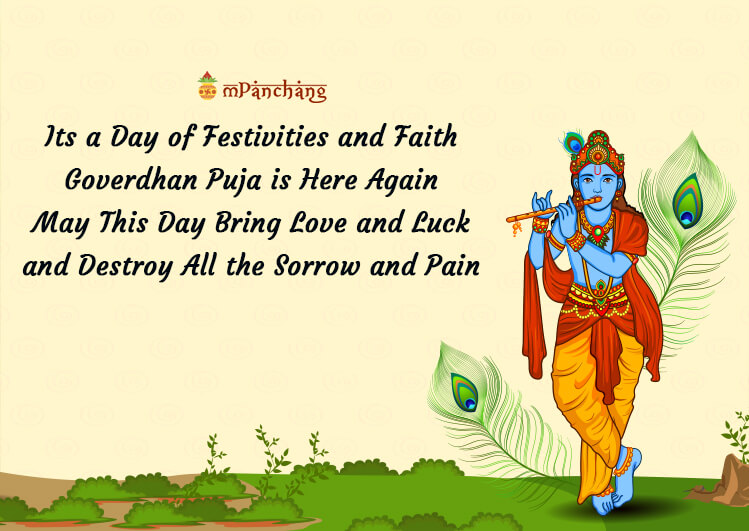 Its a day of festivities and faith
Goverdhan Puja is here again
May this day bring love and luck
and destroy all the sorrow and pain
Let's worship Lord Krishna today
Its the Goverdhan Puja day
he will make all your dreams come true
prosperity shall come finding you
Worship Lord Krishna with devotion and faith
Luck, prosperity and joy should be at your gate
Greeting of Goverdhan Puja 2021!
Also See: Diwali Greetings for Whatsapp
Tonnes of delicacies to enjoy
Melodious Bhajans to worship
It's a Goverdhan Puja day
Luck, love and wealth -is all we pray!
The strength of Giridhar, The love of Krishna,
The fun of Gopal and the devotion of Murari
May this Goverdhan Puja bless you and your family
with all the divine Qualities, luck, love and prosperity
May Shri Krishna bless your family and you with good health and wealth. Happy Govardhan Pooja!
I wish you nothing but success and the best of health on this day. Happy Govardhan Pooja.