Gujarati's celebrate their New Year on the next day of Diwali. They call it Besatu Varas and people celebrate it with friends and family. According to Hindu Panchang, October and November are the months of celebration.
From Dhan Teras to Bhai Duj -people celebrate this five days long festive season with excitement and joy. Diwali is the end of the year and people celebrate it with firecrackers, sweets and family gatherings. And the next day is the New year.
But why we celebrate it as New year? What is the story behind this New year celebration? What religious importance does it carry? Let's know everything about this grand day!
Gujarati New Year - The Religious Connection
As we saw Hindus, and specially Gujarati rejoice the next day of Diwali as their New Year. But just like every other Festival, Our Diwali and New Year also carry some essential religious importance and messages.
Moreover, Our culture always waves festival and celebrations with some wise learnings or lessons to the people. Diwali and New year also spread a message. Let's know the story behind the Hindu New Year.
According to our mythology, on this day, Krishna killed the Narakasura-an evil monster harassing innocent people of the earth. Apart from it, on this day Lord Rama returned Ayodhya after his 14 years of Vanvas. So we all celebrate the victory of the light over darkness.
That is why we welcome the New Year with lights and fireworks. Right from the Vasu Baras, the celebration begins. Another story attached to this day is of lord Vishnu and King Mahabali.
This festival celebrates the blessing granted by Lord Vishnu to King Mahabali. As per the boon, he can visit his kingdom every year on this day to see that his people are well-fed, satisfied and prosperous.
However, Lord Vishnu granted this boon in return of Mahabali's generosity. In Vaman Avatar, Lord Vishnu asked three steps from his kingdom, in the first two steps, he covered entire sky and land, so for the third step, Mahabali offered his head to Lord Vishnu.
Seeing this, Lord Vishnu became very happy and granted him this boon before making him King of Patal Loka and stepping down him On the Patal Loka.
Besatu Varas - The New Year Of Gujarat
The Karthik Sud Ekam, also known as Gujarati New Year (Besatu Varas) is celebrated on the first day of the Karthik month. The day starts with early morning firecrackers to welcome the new year. Hindus believe that a new day begins around at 4 am (The Dawn time).
Another ritual attached to this day is collecting and distributing salt from evaporated ponds. People collect salt stones from such lake and share it to everyone. It is known as 'Sabaras meaning- we are one and this will bring luck and prosperity.
People visit and wish each other with gifts and sweets. They greet friends and family with "Nutan Varshabhinandan" which means may this New Year bring luck and prosperity.
Gujarati New Year Wishes and Greetings 2021
Greetings and good health for the year ahead. May you enjoy the Gujarati New Year to the fullest.
May the new year bring all of us a ray of hope. Here's to a happy new year that brings peace and harmony everywhere. Nutan Varshabhinandan.
May you and everyone else at your home enjoy a prosperous year. Nutan Varshabhinandan.
I wish that you receive good health, wealth, and prosperity on the joyous occasion of Gujarati New Year. Nutan Varshabhinandan. Jai Shri Krishna!

Diwali and New Year Celebrations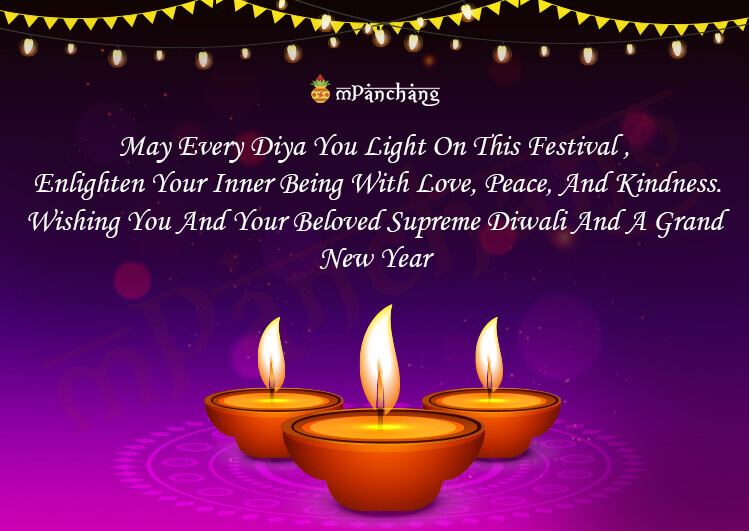 Diwali is the most significant Hindu festival. People embarrass New Year with a lot of joy and excitement. Shopping, sweets and savoury Namins are enjoyed with friends and family.
Apart from that, people lit Diya, celebrate various radiant fireworks. And visit friends and family with sweets and gifts. People also make colourful Rangoli to welcome the Gujarati New Year; It symbolises the wish that the upcoming year will be bright and colourful to them and their family members.
People meet and greet their friends and family on this auspicious day. They greet each other a new year full of joy, prosperity and luck. On Gujarati Navu varas, people seek blessings of older people and also offer prayers to Lord Vishnu and Goddess Laxmi.
So, what are your New Years' plans? Are you planning to greet your friends and family on this Gujarati New Year? Every new beginning must have some self-growth resolutions attached to it. What about your New Year resolution?
With every candle, you lit on this New year, may God ignite your inner journey. May the Rangoli you draw on Diwali's evening bring new hopes and colours to your life. May this New Year 2021 bring luck, prosperity and happiness to you and your family members! Wishing you all very Diwali and a prosperous New Year!