Chhath Puja is one of the most significant festivals of Bihar, Uttar Pradesh and Jharkhand. Devotees observe fast and dedicatedly follow various rituals of this supreme day to thank Usha and Surya Devata. We present an exciting collection of Chhath Puja Greetings and Whats app messages that you can share with your friends and family — wishing you a very divine and happy Chatth Puja!
Chhath Puja Wishes For Friends And Family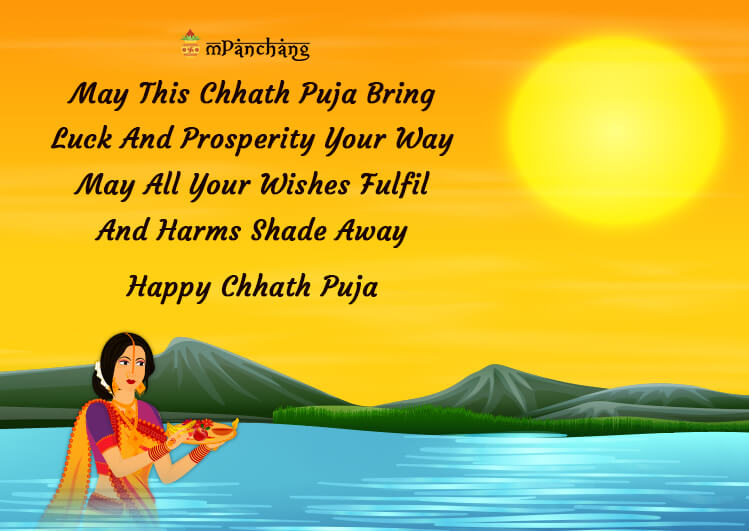 May this Chhath Puja bring
luck and prosperity your way
may all your wishes fulfil
and harms shade away
Happy Chhath Puja
May the warm rays of Lord Surya
fill your life with light and love
May all your worries shade away
And you reach your trove
Happy Chhath Puja
On this divine day, may Lord Surya
shower good health, and wealth in life
may all your agonies perish and
darkness depart from your life
Wishing You Happy Chhath Puja!
On the auspicious day of Chhath Puja
Here is wishing you and your family
luck, good health, peace and prosperity
May you and your family be showered with
prosperity, peace, luck and good health.
Wishing you Supreme Chhhath Puja!
Remove all darkness and embrace positivity.
May this auspicious day bring luck and prosperity.
Wishing you and your family a very happy Chhth puja
May this auspicious day
add health and wealth
substracts sorrow and pain
manifold luck and prosperity
deduct darkness and misery
Happy Chhath Puja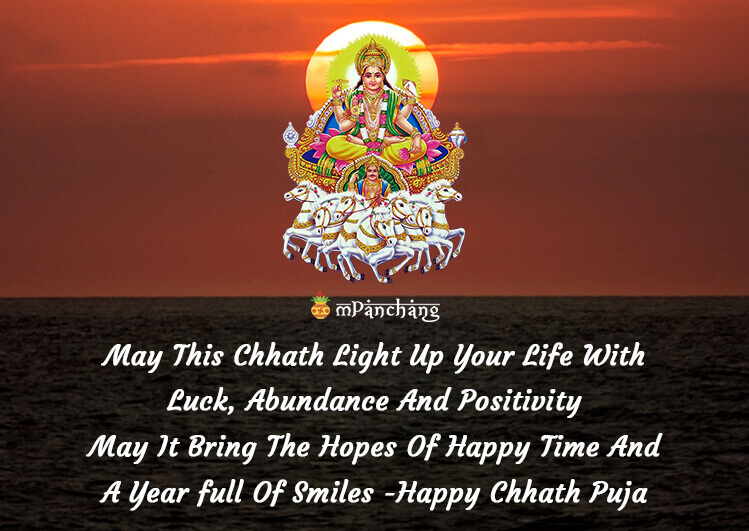 May this Chhath light up your life with
luck, abundance and positivity
May it bring the hopes of happy time and
a year full of smiles -Happy Chhath Puja
May the divine day of Chhath
bring health, wealth and happiness
to you and all your family members
May the positivity of this divine day
bring hopes, happiness and prosperity
May Lord Surya light up your life!
Wishing you all Supreme Chhath Puja!
May Lord Surya light up your life with
hopes and opportunities
fulfil all your dreams and bless with joy
Happy Chhath Puja to you and your family
Pray to mother nature, Sun and river.
As fasts begin on Chhath Puja day.
Wishing you all a very divine Chhath Puja
Pray to nature and the Lord Sun
observe fast and worship Usha Devi
may all sorrows washed away with holy bath
Celebrate this Chhth Puja with grandeur today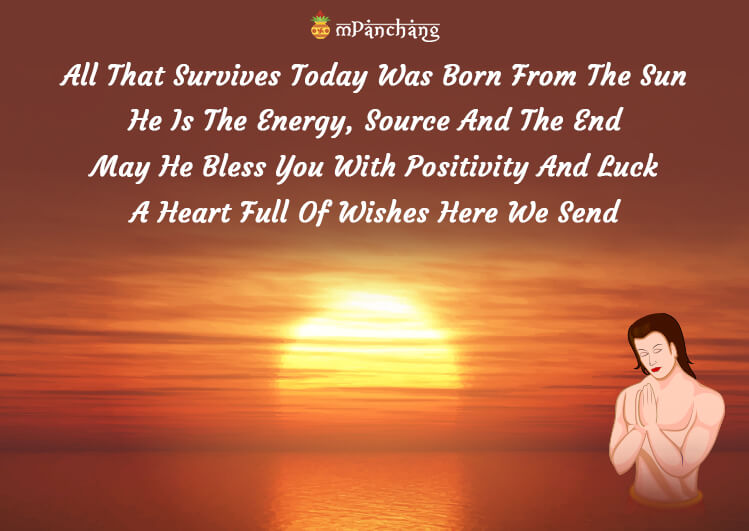 All that survives today was born from the Sun
He is the energy, source and the end
May he bless you with positivity and luck
a heart full of wishes here we send
Take a holy bath, Observe a fast
Offer the arghya, and thank Surva devata
with all your heart,
as Chhath Puja Is about to start.
Surya Devta ka leke Nam
Chhath Mata ko Karke pranam
Aao sath milkar manaye
Chhath Puja ka ye tyohaar
Also See: Why Do We Celebrate Bhanu Saptami (Surya Saptami)?
May the auspicious day of Chhath Puja
light up your life with good luck and prosperity
wishing you and your family happy Chhath Puja
It's a day to thank Lord Surya and
offer him arghya with a divine devotion
May this Chhtha bring peace, luck and love
Happy Chhath Puja to all!
May on the divine day of Chhath,
Lord Surya bless you with
Honour, character and success
Happy Chhath Puja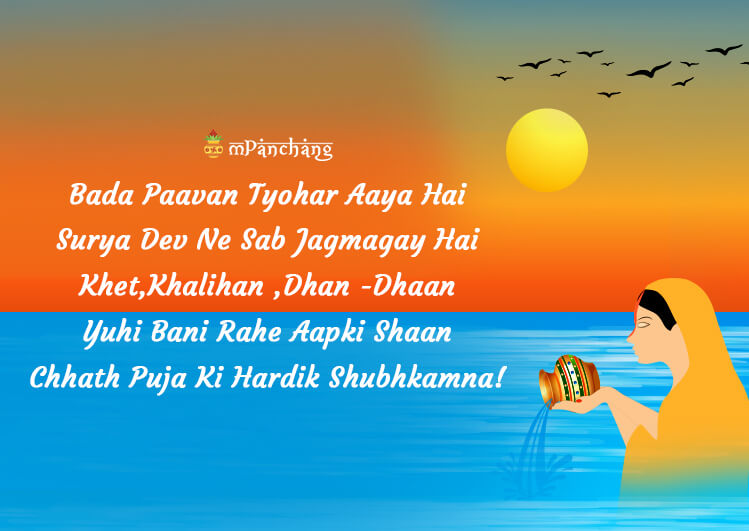 Bada paavan tyohar aaya hai
Surya dev ne sab jagmagay hai
khet, khalihan, dhan -dhaan
yuhi bani rahe aapki shaan
Chhath Puja ki hardik Shubhkamna!
Worship the God of light and life
and take the blessings of elders too
May this Chhath Puja brings
nothing but the best for you
Happy Chhath Puja!
Long live the festival of Chhath Puja.
May Surya Deva bless you with love and care.
Happy Chaath Puja to you and your loved ones!
Also See: Free Sun Sign Calculator
May this Chhath Puja marks
the beginning of new life,
fortune, wealth and health for you
May these wishes are blessed by Sun God
and all you dream and desire be true
Thank you Sun God for the crops we have
Thank you for the bliss of mother nature
Accept our offerings on this divine day
As this Chhath Puja celebrates your
worship in every way!
May Lord Surya awaken your true self
May Goddess Usha bless you with divine light
May this auspicious day begin your spiritual journey
and shine up your life with luck and success
Happy Chhath Puja to you and your family