Happy Lohri Wishes You Can Send To Your Loved Ones
Lohri is a perfect time of the year when everyone around is brimming with brightness, happiness and joy. The sacred and auspicious occasion of Lohri is about to mark its presence. Lohri is one of those grand festivities which is celebrated across the country but majorly the celebrations take place in the regions of North India. It is a festival celebrated by Sikhs and Hindus in the states of Delhi, Haryana, and Punjab.
Lohri is an Indian festival which is celebrated with too much zeal and enthusiasm amidst friends, relatives, family, and loved ones. Celebrations start with lighting up a bonfire and all the people gather around it. Then, they take rounds around the sacred fire and throw jaggery, popcorn, and peanuts in it. The festivities continue with dancing to the beats of the folk songs and dhol. On this colorful occasion, many people come under one roof to celebrate the eve with great fervor.
It is regarded as the new beginning and a new fiscal year for the Indian farmers which is associated with the harvesting of Rabi crops. Lohri marks the onset of Spring season and end of the chilly winters.
Also See: Makar Sankranti Greetings & Shayari
Here are some of the wonderful and lovely Happy Lohri Wishes, quotes, Images, messages, and Sms which you can pass it on to your loved ones and share your love with them on the blissful occasion of Lohri.
Happy Lohri Wishes Images | Lohri Quotes, SMS and Messages | Happy Lohri Greetings Photos and Pic for Facebook and Whatsapp Status.
May all your pain and sorrow burn away with the fire of Lohri. Happy Lohri!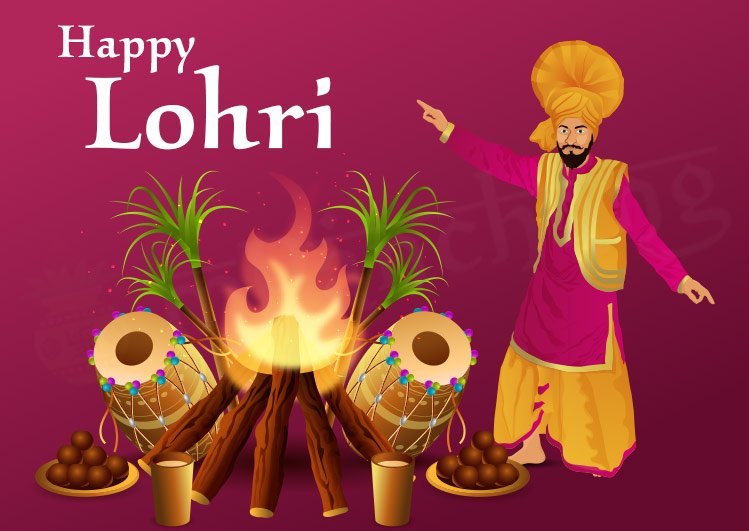 Happy Lohri Wishes
May the flickering candlelight fulfill all your dreams. Each star of the night brings you luck and joy. Wishing you and your family a very happy Lohri.
May the warmth of the bonfire, the sweetness of gud and rewari forever remain within you. Happy Lohri.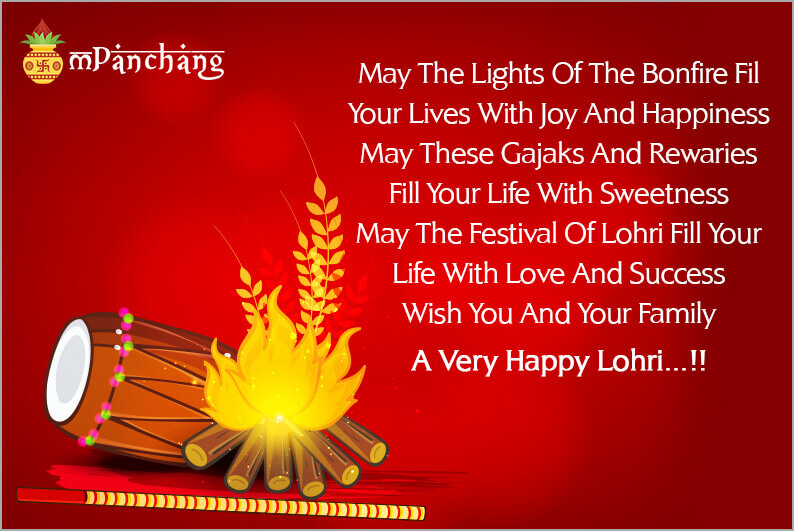 May The Lights Of The Bonfire Fil Your Lives With Joy And Happiness
May These Gajaks And Rewaries Fill Your Life With Sweetness
May The Festival Of Lohri Fill Your Life With Love And Success
Wish You And Your Family A Very Happy Lohri…!!
Happy Lohri Quotes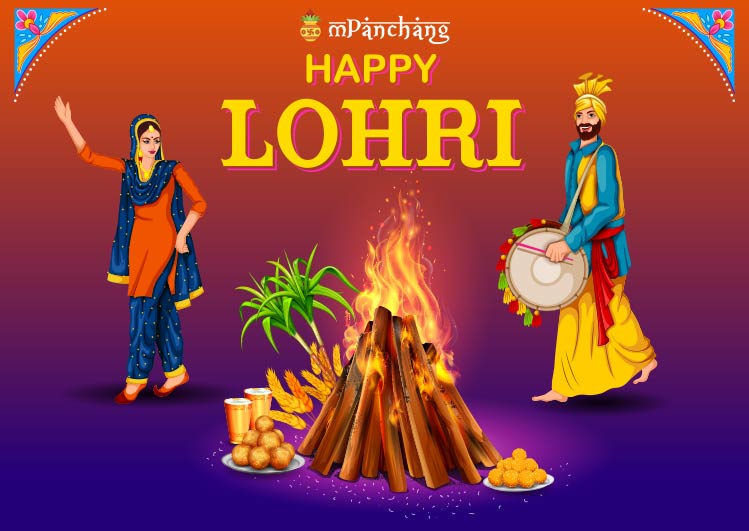 Meethe Meethe Gur Mein Mile Jese Til
Udi Udi Patang Se Khile Ese Dil
Mungfali Ki Khushboo Se Meheka Ye Sansar
Manaiye Milkar Lohri Ka Tyohar
Happy Wishes For Lohri...!!
Lohri Sms
May This Harvest Season Come Up With Abundance And Wealth
May The Lohri Fire Burn Away All The Miseries And Sadness
May You Fly High And Touch The Colors Of The Sky
Wish You A Happy Lohri...!!
Lohri Message
Makke Ki Ho Roti, Sarso Ka Ho Saag
Moongphali Ki Ho Khushbu, Gurr Ki Ho Mithaas
Manaye Lohri Ka Tyohar, Sang Harsh-o-ullas
Wishing you and your family a very happy and joyous Lohri
Lohri Whatsapp Status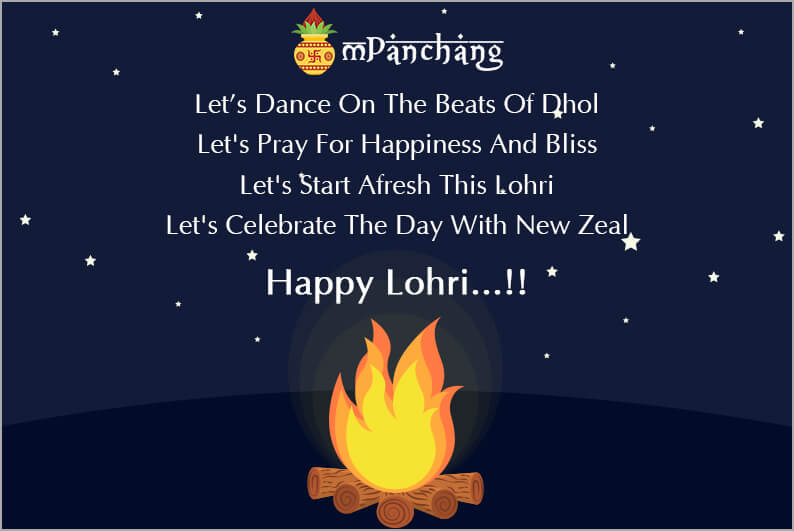 Let's Dance On The Beats Of Dhol
Let's Pray For Happiness And Bliss
Let's Start Afresh This Lohri
Let's Celebrate The Day With New Zeal
Happy Lohri...!!
Few Lines On Lohri
May This Sacred Fire Of Lohri Burn All Those Unhappy And Sad Moments Of Life
And Bring You Love, Happiness, And Joy
Wish You And Your Family A Very Happy Lohri…!!
Happy Lohri Images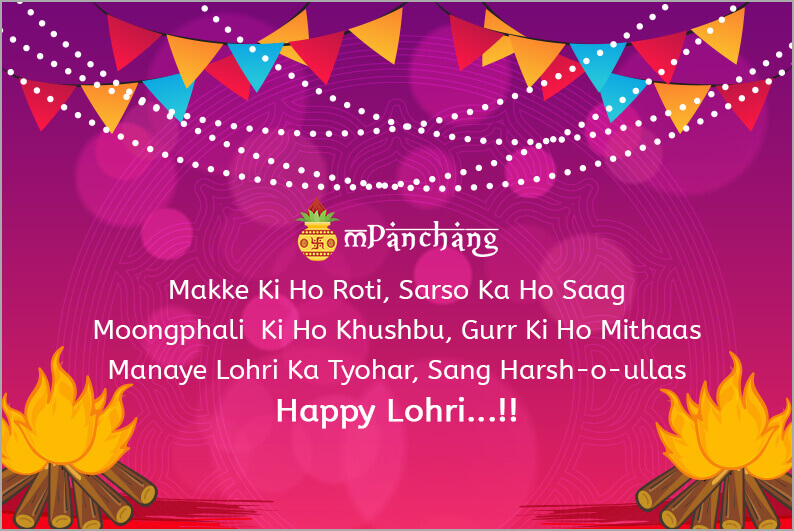 Aa Gayi Fir Se Bhangre Di Vaari
Karo Jamkar Lohri Ki Tayari
Agg De Kole Saare Aa Jao
Lohri De Geet Jor Naal Gao
Wish You A Joyous Lohri
Lohri Greetings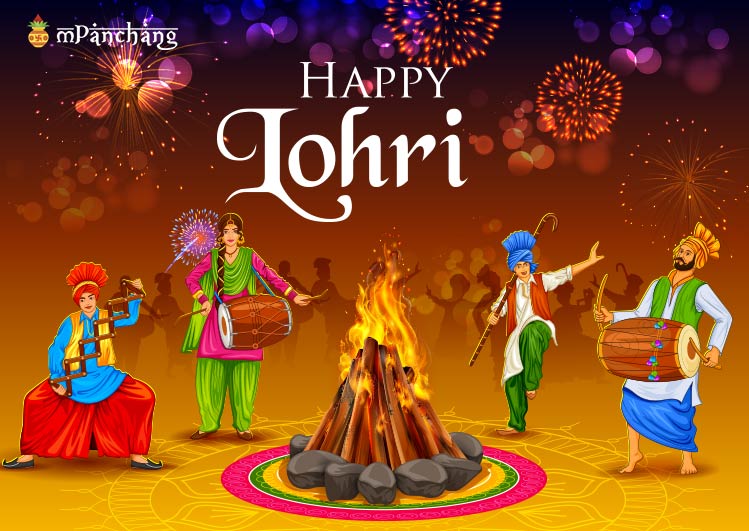 May The Sweetness Of Rewari And Gur And Warmth Of The Sacred Bonfire Remain In Your Life Forever
Wishing You A Happy Lohri...!!
Lohri Greeting Card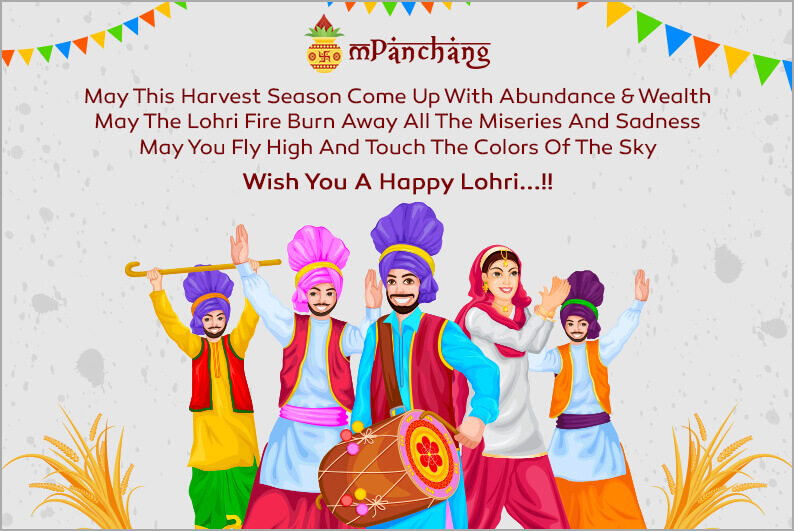 Lohri Ka Ye Prakash
Mitae Zindagi Ka Andhkaar
Aao Isi Aas K Saath Manaye Hum, Lohri Ka Tyohaar
Wishing You All A Happy Lohri..!!
Lohri Wishes
Lohri Is A Festival To Celebrate The Harvest Season
May You Achieve Abundance In All Endeavors Of Your Life
Happy Lohri. May your life be full of abundant blessings of God.
Hope you all enjoy a memorable Lohri with your loved ones!
Lohri Wishes in Punjabi (ਲੋਹੜੀ ਦੀ ਵਡਿਆਈਂ)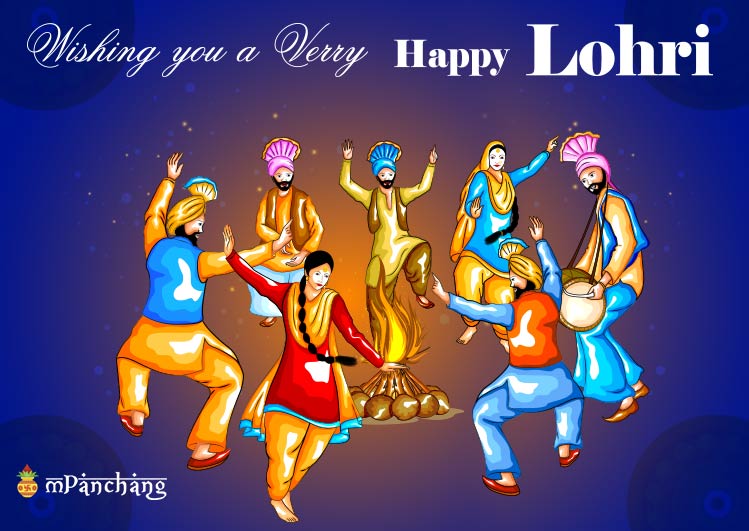 Send Lohri di Lakh Lakh Vadhaiyan in Punjabi to your family and friends. Find beautiful Punjabi Lohri wishes here.
"ਲੋਹੜੀ ਦੀਆਂ ਬਹੁਤ ਬਹੁਤ ਮੁਬਾਰਕਾਂ

ਮੇਰੇ ਵੱਲੋਂ ਤੁਹਾਨੂੰ ਅਤੇ ਤੁਹਾਡੇ ਸਾਰੇ ਪਰਿਵਾਰ ਨੂੰ ਲੋਹੜੀ ਦੇ ਤਿਉਹਾਰ ਦੀਆਂ ਲੱਖ-ਲੱਖ ਮੁਬਾਰਕਾਂ!
ਭੰਗੜਾ ਗਿੱਧਾ ਪਾਉਣ ਦੀ ਵਾਰੀ ਏ, ਸਭ ਨੇ ਖਿੱਚੀ ਲੋਹੜੀ ਮਨਾਉਣ ਦੀ ਤਿਆਰੀ ਏ"
"ਸੁੰਦਰ ਮੁੰਦਰੀਏ ਹੋ,
ਤੇਰਾ ਕੌਣ ਵਿਚਾਰਾ ਹੋ,
ਦੁੱਲਾ ਭੱਟੀ ਵਾਲਾ ਹੋ,
ਦੁੱਲੇ ਦੀ ਧੀ ਵਿਆਹੀ ਹੋ,
ਬੱਸ ਬੱਸ ਆ ਲੈ 1 ਰੁਪਇਆ ਬਾਕੀ ਲੋਹੜੀ ਤੇ ਆਈਂ..
ਹੈਪੀ ਲੋਹੜੀ"
"ਭੰਗੜਾ ਗਿੱਧਾ ਪਾਉਣ ਦੀ ਵਾਰੀ ਏ,
ਸਭ ਨੇ ਖਿੱਚੀ ਲੋਹੜੀ ਮਨਾਉਣ ਦੀ ਤਿਆਰੀ ਏ…"
"ਅਸੀਂ ਤੁਹਾਡੇ ਦਿਲ ਵਿੱਚ ਰਹਿਣੇ ਆਂ, ਏਸੇ ਕਰਕੇ ਤਾਂ ਸਾਰੇ ਗਮ ਸਹਿਣੇ ਆਂ,
ਪਰ ਫੇਰ ਵੀ ਸਾਰਿਆਂ ਤੋਂ ਪਹਿਲਾਂ ਤੁਹਾਨੂੰ ਹੈਪੀ ਲੋਹੜੀ ਕਹਿਨੇ ਆਂ...
!!....Happy Lohri...!!"
"ਮੇਰੇ ਵੱਲੋਂ ਤੁਹਾਨੂੰ ਅਤੇ ਤੁਹਾਡੇ ਸਾਰੇ ਪਰਿਵਾਰ ਨੂੰ
ਲੋਹੜੀ ਦੇ ਤਿਉਹਾਰ ਦੀਆਂ ਲੱਖ-ਲੱਖ ਮੁਬਾਰਕਾਂ!"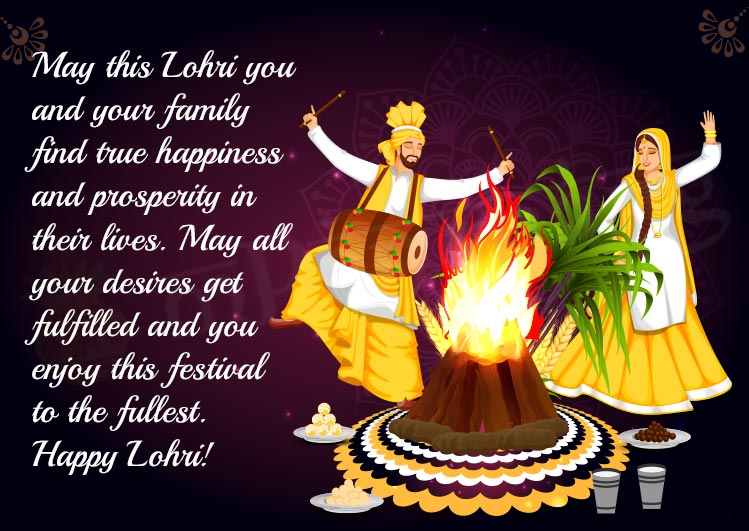 May this Lohri you and your family find true happiness and prosperity in their lives. May all your desires get fulfilled and you enjoy this festival to the fullest. Happy Lohri 2022!
May this year bring a lot of happiness and joy in your life. Let every day be so colorful and happening as the festival of Lohri 2022. Wishing you and your family a very happy Lohri!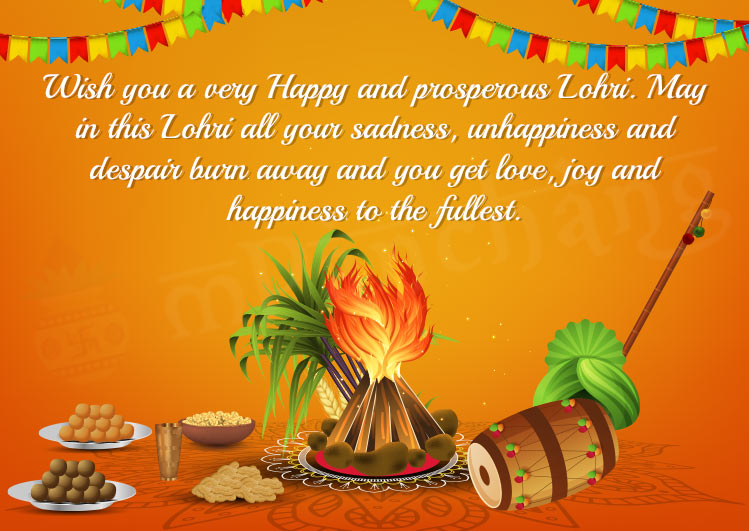 Wish you a very Happy and prosperous Lohri. May in this Lohri all your sadness, unhappiness and despair burn away and you get love, joy and happiness to the fullest.
Happy Lohri to you and your family! May the fire of the holy bonfire burn away all your sorrows and you may find infinite joy and happiness. Enjoy the festival of harvest!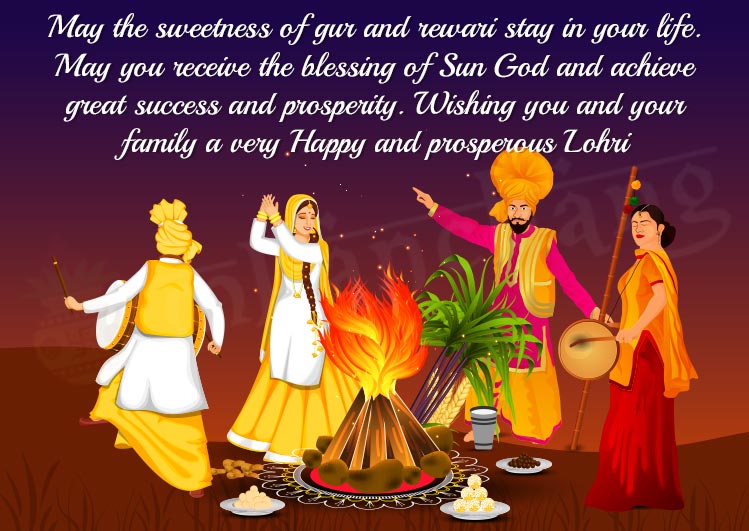 May the sweetness of gur and rewari stay in your life. May you receive the blessing of Sun God and achieve great success and prosperity. Wishing you and your family a very Happy and prosperous Lohri 2022!
Let's celebrate Lohri and spread a lot of laughter, joy, happiness, and love among everyone. Happy Lohri 2022!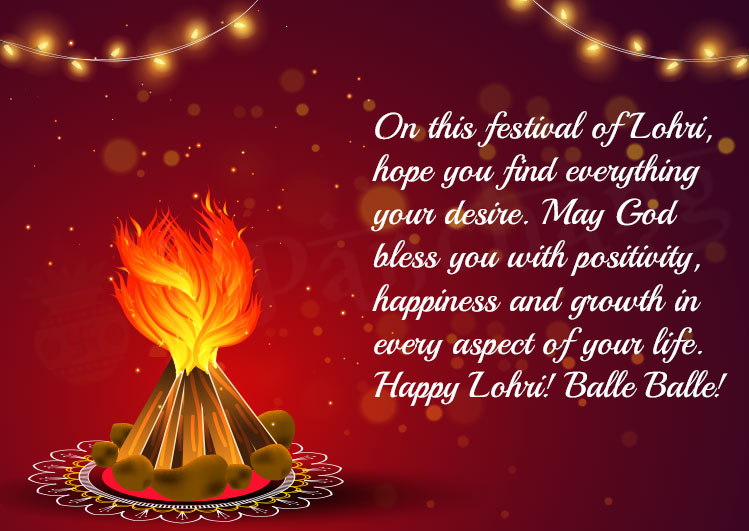 On this festival of Lohri, hope you find everything your desire. May God bless you with positivity, happiness and growth in every aspect of your life. Happy Lohri! Balle Balle!
Share the sweetness of rewari and the warmth of bonfire with everyone. May this Lohri 2022 bring smiles to your face and you find serenity, joy, love and peace. Happy Lohri!
Enjoy this Lohri to the fullest. Let all your sorrows vanish and you possess a lot of love, happiness, good health and prosperity.
Lohri has come with great joy and happiness. Let's open the doors of our heart and spread the sweetness of gur and warmth of the holy bonfire. Enjoy each moment of Lohri festival. Wish you and happy and prosperous Lohri 2022!
Hath wich mungfli,
muh wich reodi,
la ke ghut thodi thodi,
fer bolo.....
HAPPY LOHRI
Happy Lohri Quotes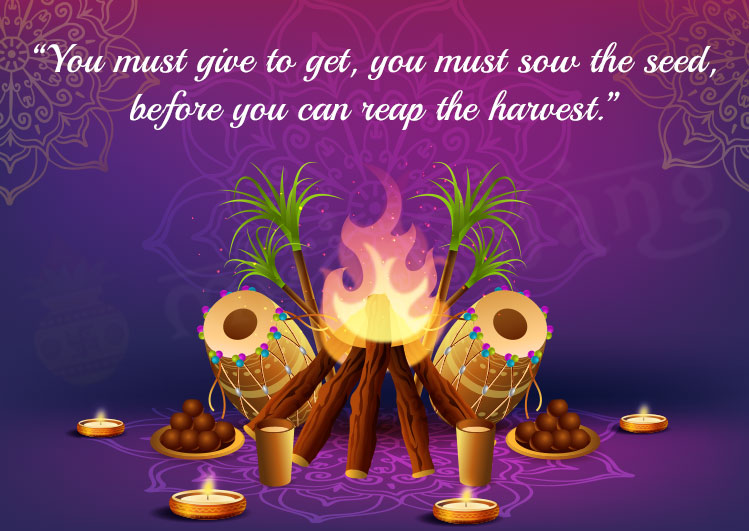 "Don't judge each day by the harvest you reap but by the seeds that you plant."
"You must give to get, you must sow the seed, before you can reap the harvest."
"There would be no advantage to be gained by sowing a field of wheat if the harvest did not return more than was sown."
"It is not always granted to the sower to live to see the harvest. All work that is worth anything is done in faith."
""Before the fruits of prosperity can come, the storms of life need to first bring the required rains of testing, which mixes with the seeds of wisdom to produce a mature harvest."- Lincoln Patz
""If you sow the seed of time conversion, you will reap a harvest of greatness"- Sunday Adelaja