2022 Pongal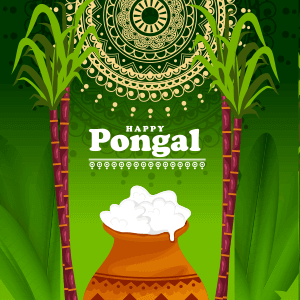 Pongal - Celebrations and Significance
What is Pongal?
Pongal is one of the most pious and significant festivals of South India which is also popular by its other famous name i.e. Harvest festival. The festival is primarily celebrated in Tamil Nadu but it is also celebrated in various other regions of India with much happiness and fervor. It is a 4-day long festivity which is carried out with a lot of passion, zeal and immense enthusiasm.
The festival of Pongal celebrates the divine blessings of the deity Sun which leads to prosperity in the life of the people because of a good harvest. The name of the festival is derived from a famous sweet dish which is usually prepared on the eve of Pongal and is offered to the deity in order to worship them.
How Pongal is Celebrated?
This colorful and joyous festival is celebrated in the Thai month which is the 10th Tamil month. The festivity initiates from the last day of Margazhi month and is concluded on the very 3rd day of the Thai month as per Tamil calendar. As per the Gregorian calendar, the day is usually celebrated on any date between 13th January to 16th January.
What is The Story of Pongal?
One of the most significant legends associated with the festival of Pongal is of Lord Krishna. Once Lord Indra who is the God of rains out of rage and agitation flooded Gokul. At that time, Lord Krishna came for the rescue and saved all the villagers and entire Gokul by lifting up the Govardhan Parvat on just one finger. To this, Lord Indra accepted his mistake and soon sought forgiveness from the deity and thus redeemed the happiness, peace, and prosperity of Gokula.
Another popular and well-known legend associated with the festival is the story of Nandi, the sacred bull of deity Shiva. Once, Lord Shiva asked Nandi to preach a message to the people living on the Earth that they should take a bath on daily basis and must consume food or eat only once in an entire month. But instead of preaching this message, Nandi preached the opposite message that people should take bath only once in a month and must eat daily. To this. Lord Shiva got angry and ordered Nandi to reside on Earth and support human beings in harvesting so that they can get an adequate amount of crops or food for them so that everyone can eat every day.
Also See: Maha Shivaratri Story
What are The Rituals of Pongal?
The festivity continues for 4 days and the rituals are performed with much devotion, happiness and fervor.
This day is primarily devoted to Lord Indra. Devotees light a sacred bonfire in front of their residences and then burn their old stuff and old clothes in it. All the devotees clean their homes and then beautifully adorn them with kolams which are made up of red-colored mud and red-flour paste. For decoration purpose, pumpkin flowers and cow dung is also used as they are regarded as highly sacred.
2nd Day: Surya Pongal / Thai Pongal
This day is primarily devoted to Sun God. It is the very first day of the Thai month of Tamil. Devotees cook 'Pongal' which is a traditional sweet dish made up of lentils and rice which are boiled in jaggery and milk. The sweet dish is then offered to the deity Sun.
This day is primarily devoted to the cattle which are regarded as a significant aspect of the agricultural world. The oxen and cows are offered bath and then adorned with flowers, garlands, beautiful clothes and ornaments and then Pongal are offered to them. On this auspicious day, Bullfight is one of the major parts of the festivities which enhance the spirit and fervor of Pongal.
4th Day: Kanya Pongal / Kaanum Pongal
This is the concluding day of the festival on which all the sisters pray and worship the deities for good health, happiness, well-being, and success of their brothers. This particular day is also dedicated to birds and rice is cooked in order to feed them.
Also See: When is Makar Sankranti Festival
Which famous dishes are prepared on the eve of Pongal?
Food is the essence of Pongal which signifies prosperity, good health, and happiness. There are some particular authentic dishes which are prepared on the auspicious and grand eve of Pongal such as Khara Pongal, Sakkarai Pongal, Murukku, Vadai, and Paal Payasam.