2022 Bhratri Dwitiya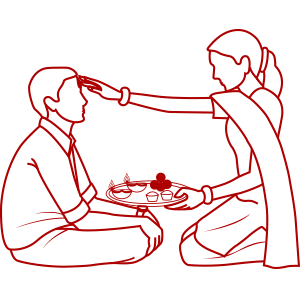 It is a decent celebration, the primary customs to be taken after on this day are, worshiping Lord Yama alongside Chitragupta and Bhagini gruha bojana(taking dinners in sisters house). River Yamuna is the sister of Lord Yama. Yamuna used to welcome her brother frequently but Yama was not able to visit his sister's house. There came a day when Yama went to his sister's home and this day is termed as kartika suddha vidiya.
Yamuna indicated extraordinary regard to her brother and his family along with worshipping him. She herself arranged sustenance and offered to every one of them. Ruler Yama was particularly pleased, asked her to pick a wish. At that point Yamuna asked a wish that on this day, The brother who goes to his sister's home and takes sustenance from her, will never go to Naraka and sudden death. Master Yama concurred and furthermore said that, The sister who welcomes her brother and serves nourishment to him on this day, will never get to be dowager. To pay tribute to Lord Yama this day is prominent as Yama dwitiya. Kartika shukla vidiya is the second day of kartika masa, additionally called as Yama dwitiya, Bhratri dwitiya. The primary custom on this day is venerating of brothers by sisters, so it is additionally called as Bhratri dwitiya.
Here is Diwali Festival Calndar with Festival Dates