Happy Dussehra 2020 Wishes Images, Quotes, Status, Wallpaper, SMS, Messages, Photos: Dussehra is one of the most awaited festivals of Hindus that is celebrated all over India with great zest and vigour. It marks the victory of Lord Rama over Ravana and symbolizes the triumph of good over evil. Also called as Vijaydashmi, Dussehra is celebrated on the last and tenth day of Durga Puja. In the eastern part of India, it is celebrated as a grand festival that honors Maa Durga. Sindoor khela and grand processions are held during this day. In North India, devotees burn Ravana effigies and wish everyone Happy Dussehra. They send Happy Dussehra wishes in hindi and english. They share Happy Dussehra, quotes, messages and blessings to their loved ones.
Diwali 2020 Calendar with Date and Time for Puja Muhurat.

Celebrate Dussehra 2020 and share your love and warmth with Happy Dussehra wishes, messages, images and special quotes. Get handpicked special Shubh Dussehra wishes, Dussehra blessing quotes, Dussehra wishes images, Happy Dussehra wishes quotes and beautiful Happy Dussehra wishes for Whatsapp, Facebook, Instagram, Twitter and Telegram.
Happy Dussehra 2020: Vijayadashami Wishes Images, Photos, Pics, Messages and Status for Whatsapp and Facebook
Send Happy Dussehra wishes in english , Dussehra special quotes, beautiful Happy Dussehra messages, heartwarming Dussehra wishes images to your family and friends.
Happy Dussehra! Wishing you and your family a blissful and happy Dussehra 2020!

May this Dussehra burn all your sorrows and griefs. May you get all the good health, prosperity and happiness with the blessing of Maa Durga. Happy Vijaya Dashami!
On this auspicious occasion of Vijayadashami, I wish you to receive the blessings of Maa Durga. May Maa Durga enlighten your life and bestows happiness and prosperity on you and your family. Happy Dussehra 2020!
May this Dussehra bring happiness, good health and prosperity in your life.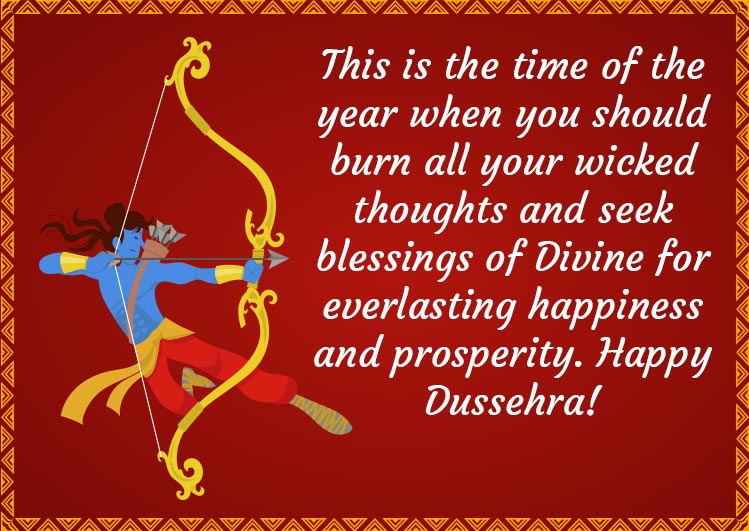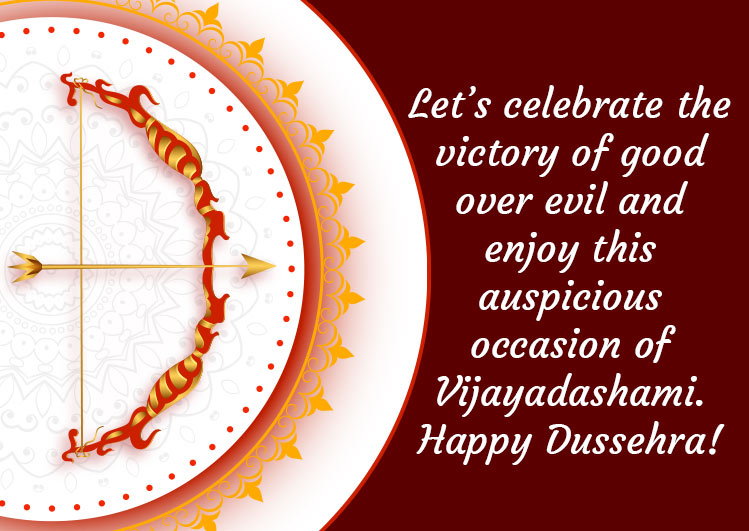 A very Happy Dussehra to you and your family. May Lord Rama bestow you with a great strength and courage to follow the way of truth and righteousness. Let all the wickedness and negativity burn and you receive blessings and happiness for the whole life.
Let's celebrate the victory of good over evil and enjoy this auspicious occasion of Vijayadashami. Happy Dussehra!

May Lord Ram and Maa Durga grant all your wishes and bless you with immense success, happiness, prosperity and good health. Wish you and your family a very Happy Dussehra!
Happy Dussehra greetings to you and your loved ones! May all your worries wash away and your life light up with goodness, happiness and prosperity on the auspicious day of Vijayadashami.
A very happy and joyful Happy Dussehra to you and your family.
Happy Dussehra 2020: Dussehra Whatsapp Status Images
Send special Dussehra quotes from Ramayana and unique status to your family members, relatives, friends and everyone you know. Celebrate the spirit of Dussehra with meaningful Vijayadashami quotes, wishes and status for whatsapp.
Like Lord Ram killed Ravana and restored Dharma and humanity in the world. May this Dussehra, you also feel inspired to kill your inner negativity, envy, jealousy and all the bad habits to move towards success and greatness. Have a great and prosperous Dussehra to you and your family. Happy Dussehra 2020!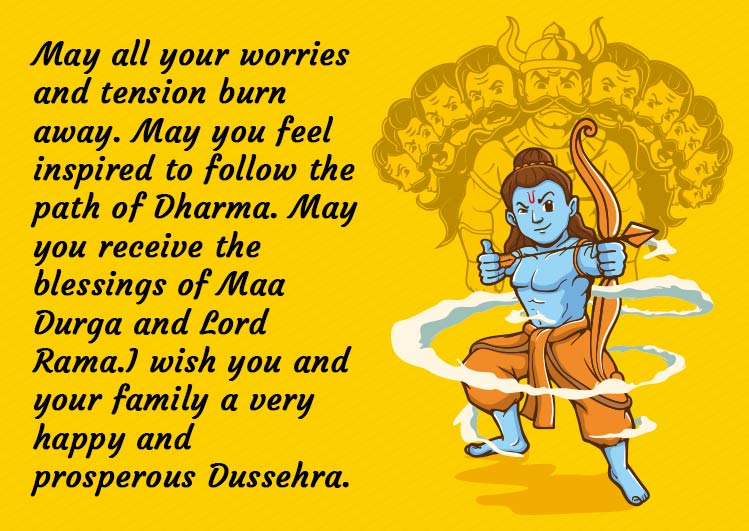 May all your worries and tension burn away. May you feel inspired to follow the path of Dharma. May you receive the blessings of Maa Durga and Lord Rama.I wish you and your family a very happy and prosperous Dussehra.
Like the effigies of Ravana burn every Dussehra, may this year all your problems, negativity and worries also burn away. Wish you a happy and Shubh Dussehra!
The time has arrived to celebrate the victory of the good over the evil. Let this Dussehra we all kill our inner Ravana and seek the virtues of Lord Rama. Let we follow the path of righteousness and establish Dharma in the true sense. Happy Dussehra 2020!
Just as Lord Ram removed all evil from the earth by killing demon king Ravana, I wish you also successfully eliminate all your evil and negative thoughts from your life. Wish you and your family a Happy Vijaya Dashami 2020!
Happy Dussehra Quotes
Dussehra is a festival of victory of good over evil.
Let's welcome Lord Rama's blessings. Let's conquer every battle with truth.
Follow the path of Dharma to win all the battles against evil.
Even your pity is like a blast of wind and the words you speak would strip a tree of its blossoms.
He who does not repay a favour is a stigma to humanity.
You cannot count on the physical proximity of someone you love, all the time. A seed that sprouts at the foot of its parent tree remains stunted until it is transplanted. Rama will be in my care, and he will be quite well. But ultimately, he will leave me too. Every human being, when the time comes, has to depart to seek his fulfilment in his own way.
There are three all-powerful evils: lust, anger and greed.
Famous Dussehra Quotes
Abandon pride, which is the same as Tamas-guna (darkness), rooted as it is in ignorance and is a source of considerable pain; and adore Lord Shri Rama, the Chief of the Raghus and an ocean of compassion.- Tulsidas, Ramayana.
Destiny is not arbitrary or inimical; it is orderly and reactional. It gives us reactions to our own past actions. ― Chaitanya Charan Das, Wisdom from The Ramayana: On Life and Relationships