Diwali wishes in Tamil | இனிய தீபாவளி நல்வாழ்த்துக்கள்
2021 Diwali wishes in Tamil including Diwali wishes, quotes, greetings, images. You can look here for Diwali wishes quotes in Tamil. Here's to a Happy Diwali celebration in 2021.

There are lots and lots of Happy Diwali Wishes Images in Tamil that we receive every Diwali.
As India's biggest and most celebrated festival, Diwali is a religious festival for Hindus.
Read More - Happy Diwali Greetings and Wishes Images.
The festival of lights, also known as Deepawali, is celebrated by Indians all over the world. In the Hindu tradition, Deepavali, which literally means a row of lights, is a five-day celebration in which Hindus worship hundreds of lights. This festival commemorates the fifteenth day of the Hindu month of Kartik, which according to the Hindu calendar is considered the holiest month. You can find happy Diwali wishes in Tamil, here.
Diwali Day-1 Festival
Govatsa Dwadashi, Vasu Baras
Diwali Day-2 Festival
Dhanteras, Dhanvantari Trayodashi
Diwali Day-3 Festival
Yama Deepam, Kali Chaudas, Hanuman Puja, Tamil Deepavali, Narak Chaturdashi
Diwali Day-4 Festival
Diwali Lakshmi Puja, Kedar Gauri Vrat, Chopda Puja, Sharda Puja, Diwali Snan, Diwali Devpuja
Diwali Day-5 Festival
Dyuta Krida, Gowardhan Puja, Annakut Puja, Bali Pratipada, Gujrati New Year Celebration
Diwali Day-6 Festival
Bhaiya Dooj, Bhau Beej, Yama Dwitiya
Diwali is celebrated as the victory of good over evil and the eradication of ignorance. It is a joyous festival full of happiness and festivity. People who celebrate Diwali around the world decorate their homes with candles, diyas, and lights to 'light' the path to enlightenment. On this day, families gather to offer prayers, ignite firecrackers, and eat sweets.
This collection of Diwali wishes in Tamil, Diwali wishes quotes in Tamil and greetings is perfect for someone who takes part in the celebrations of Diwali and you'd like to show your appreciation:
Diwali wishes in Tamil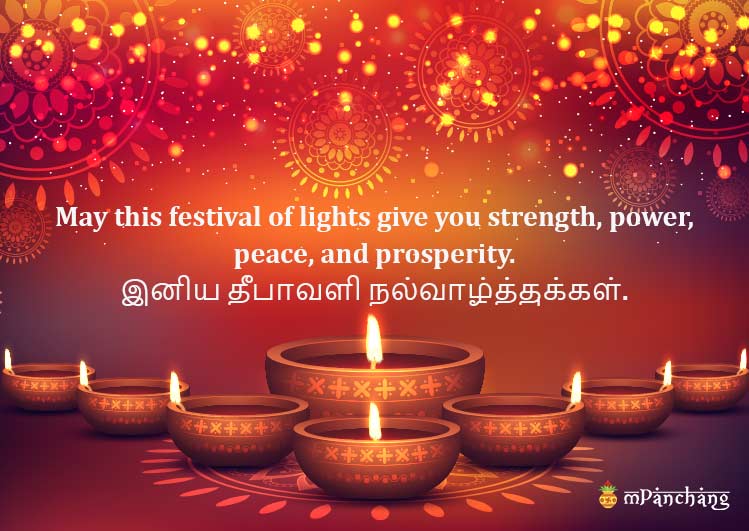 May every corner of your life be illuminated by the sparkling lights of Diwali. இனிய தீபாவளி நல்வாழ்த்துக்கள்.
May all your worries be burnt away by the lights of Diwali. Happy Deepavali.

May every candle and diyas bring prosperity and glow to your family. இனிய தீபாவளி நல்வாழ்த்துக்கள்.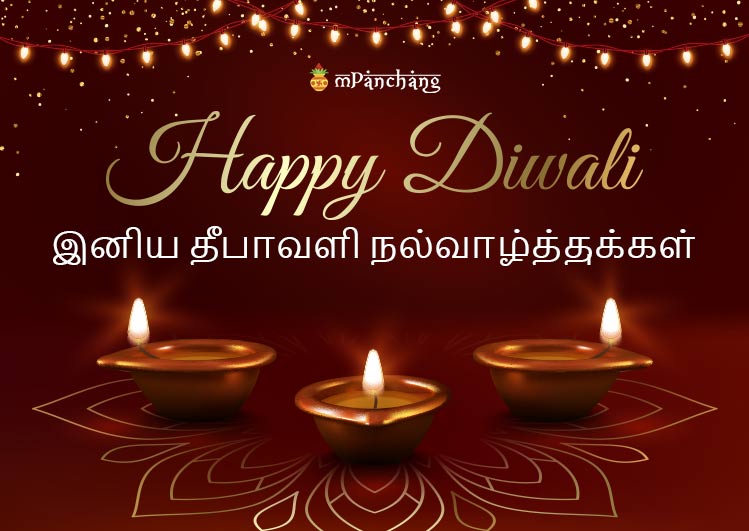 May you glow like gleaming diyas, shine like sparkles, and may the crackers burn all the negativity from your life. Happy Diwali.
பிரிந்தோர் சேர்ந்து இனிமையாய் இனைந்து குதூகலத்தோடு கொண்டாடுவோம் தீபாவளியை - Let's celebrate Deepavali together with joy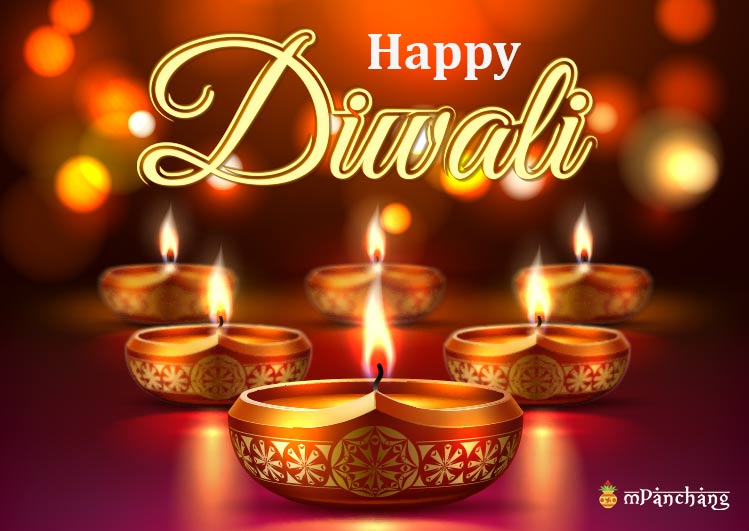 May peace and harmony prevail in your life by the divine lights of Diwali.
அன்பு பொங்க, மகிழ்ச்சி நிறைய, சொந்தங்கள் இணைந்து கொண்டாடுவோம் தீபாவளியை - Let's celebrate Deepavali with love, lots of joy and relatives.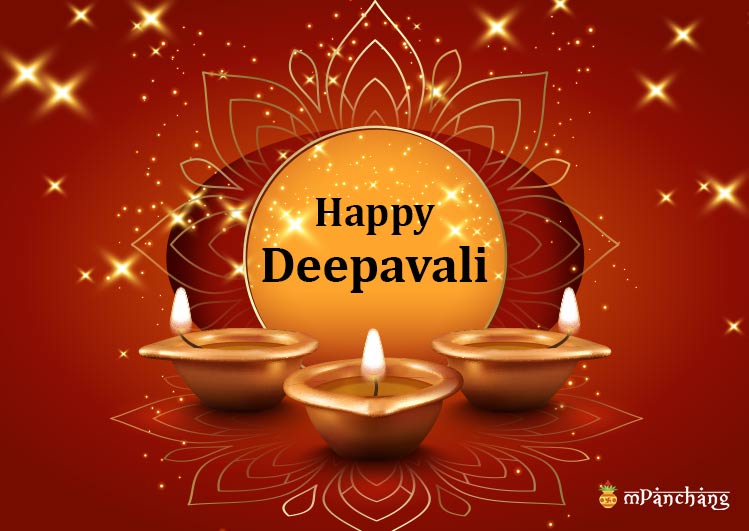 May this festival of lights give you strength, power, peace, and prosperity. இனிய தீபாவளி நல்வாழ்த்துக்கள்.
I wish good triumph over evil, love over hate, and joy over despair on Diwali and throughout the year.